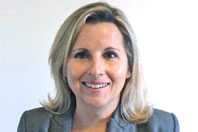 KAREN ANDERSON – Legal Recruiter
Managing Director
Location: New York, NY
Karen Anderson is a recruiter and leader residing in our New York office. She has developed leadership placement solutions for Fortune 500 corporations, global law firms, leading educational institutions, as well as start-up and high growth companies in various industries.
She has over ten years of search experience placing attorneys nationwide with corporate legal departments at all levels and across all industries. Representative corporate clients include: Qualcomm, IBM, Ernst & Young, Viacom, and Citibank. Karen has successfully placed 100's of legal professionals in the course of her legal recruiting career – from staff attorneys to general counsels – in companies involved in a wide range of industries across the country.
An experienced legal recruiter in Europe and Asia, Karen also has a great deal of expertise in helping clients with strategic hiring overseas. She has an impressive record of matching lawyers with preeminent companies in the U.S. and overseas. Karen considers herself to be a true partner to her clients. She works closely with them to understand their needs, cultures and dynamics, and to forge placements and teams that last. Clients who work with Karen are impressed by the depth of her knowledge of the in-house legal market, understanding of regional, national, and international market conditions, and familiarity with top corporations around the world.
Karen is an attorney who practiced law in private law firms, as well as in-house as a General Counsel. Prior to joining ESQ Recruiting, she was involved in legal recruiting for her firm, and established and managed her company's legal department. She also previously worked for a national legal search firm, where she specialized in the placement of senior-level corporate attorneys.
Karen received her B.A. in English from McGill University, and her J.D., magna cum laude, from Pace University School of Law. She is a former litigator who practiced law with a leading international law firm based in New York.